We may earn money or products from the companies mentioned in this post.
Charcoal smokers and grills, like everything else, have increased in price, so finding a good grill under $500 can be a challenge. After reviewing these grills, you can now find the grill that helps understand the similarities and differences to help you make an informed decision.
Frequently Asked Question
How much should I spend on a charcoal grill?
That depends largely upon your budget. Depending on how often you use your charcoal grill, you may have to purchase charcoal briquettes or lump charcoal for your grilling event. You will also need to budget for tools and other accessories.
What Your Budget Allows
Your budget allows for a new grill, but only if it stays within your price range. Budgeting for your grill has shown you need one that helps you gain experience but also creates great flavor. The grills, I have selected are economical, features helping you create great flavor, and gain experience experience.
To help you gain the right knowledge for your grill, I have looked at price, durability, and portability to determine which grill suits your needs. This knowledge allows you to make an informed decision about affordability, durability, and portability along with features allowing you to smoke or grill like a pro.
This buying guide allows you to decide which grill best fits your needs. Reviewing each of these grills gives you the information to make an informed decision. Finding the grill that is best for you is my goal.
| | | | |
| --- | --- | --- | --- |
| Image | Name | Price | Learn More |
| | Gravity Series® 560 Digital Charcoal Grill + Smoker | $$$ | Learn More |
| | Dyna-Glo Signature Series DGSS962-CBO-D Barrel Charcoal Grill & Side Firebox | $$ | Learn More |
| 100 | Royal Gourmet CC1830SC Charcoal Grill Offset Smoker | $ | Learn More |
Best Better Good
Overview Of The Gravity Series® 560 Digital Charcoal Grill
| | |
| --- | --- |
| Brand | Masterbuilt |
| Model Name | Gravity Series 560 |
| Power Source | Corded Electric |
| Color | Black |
| Item Weight | 146.98 Pounds |
| Item Dimensions LxWxH | 24.65 x 54.13 x 51.97 inches |
| Fuel Type | Charcoal |
Frequently Asked Question
How do I reset my Masterbuilt gravity 560?
Power off your grill and unplug it. You will need to wait 5 minutes before plugging it back in. This should reset your control panel. It would be a good idea to see if the error code has been cleared before grilling again.
Charcoal Smokers and Grills Meet Masterbuilt Gravity 560 Grill
The Masterbuilt Gravity Series® 560 Digital Charcoal Grill + Smoker has taken charcoal grilling and smoking to a new level. Today's technology is coming to charcoal grills, this may help, with the added feature of setting your control panel for the right temperature so you can spend more time with family and friends.
Once you have set your timer, you will find that smoking is now easy, allowing you to spend more time with family and friends. The charcoal, wood chips, or lump charcoal are dumped into the hopper, and gravity does the work. You no longer have to worry about the heat on the Masterbuilt Series 560 grill.
Once you begin smoking your brisket, you no longer worry about reloading your hopper. This hopper holds enough charcoal to smoke for 12 hours without the need to reload. This helps your heat management when smoking your brisket. A popular saying among most Pitmasters is "if you're lookin' you ain't cooking". Keeping the lid of your cooking chamber closed also keeps the heat constant for more effective smoking and cooking.
The Masterbuilt Series 560 grill reaches smoking temperatures(225F) in as little as 7 minutes or searing(700F) in 13 minutes but; the Masterbuilt allows you to start smoking or searing faster than the competitors. This feature allows you to start smoking faster than its competitors. It will even maintain these temperatures while the lid is open, making for a more better grilling experience.
Once the lid is closed, there will be less charcoal dropped, allowing the temperature to lower back to the set temperature, allowing for a more consistent cooking temperature for grilling or smoking. Now that you have fewer heat management problems, you will have better-tasting food that is easier to cut.
Benefits
Gravity automatically feeds the charcoal or lump charcoal into the fire while the fan maintains the temperature once the temperature is set.
The feature of setting the temperature gives you options you have never had before. Your anxiety about heat management is gone, once you have preset the temperature, it keeps feeding and cooking at the preset temperature.
Cold weather is no longer a problem, the temperature stays in the right zone due to the preset temperature. The settings on the temperature controller maintain a steady flow of heat while grilling for a better grilling experience.
Drawbacks
The controller keeps turning itself off.
Bluetooth is hard to pair with the phone.
The firebox chamber needs to be redesigned since the grease keeps flowing into the fire chamber.
Overview Of The Dyna-glo Signature Series DGSS962 Grill
| | |
| --- | --- |
| Brand | Dyna-Glo |
| Material | Porcelain enameled steel |
| Color | Black powder coat |
| Item Dimensions LxWxH | 67 x 34.5 x 60 inches |
| Item Weight | 169.4 Pounds |
Dyna-Glo Signature Series
Grilling with the Dyna-Glo Signature Series has a series of options allowing you to grill what you desire. Grilling steaks, hamburgers, hot dogs, and other foods for a quick family meal. You also have the option of smoking larger cuts of meat, These meats may include briskets, pork butts, chickens, and turkeys to create phenomenal flavors.
Porcelain-enameled grill grates can help reduce your food sticking to the grill. Another advantage is their weight, they are very light, which allows you to move them quickly. Another handy tip to prevent your food from sticking to your grates, take a paper towel, soak it with cooking oil then rub the oil-filled paper towel on the grill.
Benefits
Evenly distributes heat for grilling and smoking.
Can handle large amounts for grilling.
Great for smoking ribs.
Drawbacks
Hard to assemble.
Ash is hard to remove since there is no ash catcher.
May give inaccurate temperatures requiring the need to find a replacement.
Frequently Asked Questions
How long does it take for charcoal to be ready?
It will take 10 – 20 minutes for your charcoal to be ready for grilling. That will depend mostly upon how you start the fire; using a chimney to start my charcoal, allows me to start grilling in about 15 minutes.
Overview Of The Royal Gourmet CC1830SC Charcoal Grill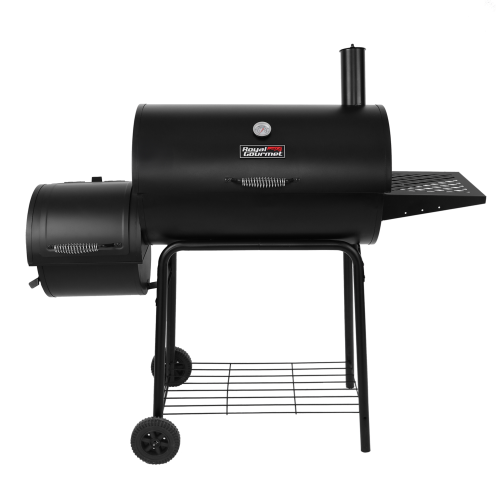 | | |
| --- | --- |
| Model Name | CC1830R |
| Power Source | Charcoal |
| Color | Black |
| Item Weight | 48.1 Pounds |
| Item Dimensions LxWxH | 53.15 x 19.49 x 48.62 inches |
| Fuel Type | Charcoal |
Charcoal Smoker And Grill From Royal Gourmet May Have Your Features
The Royal Gourmet Charcoal Grill Offset Smoker offers great value for those who need to gain experience on their journey to becoming grill masters. You can use either flavored charcoal, lump charcoal, or wood to grill with, for added flavor.
For a quick grill, such as steaks, you will want your grill temperature to be close to the 450F – 500F range for searing and getting those great sear marks.
For the best results, keep your temperatures in the range of 225F-275F, when smoking your meats, you will want to go low and slow for that rich smoky flavor to penetrate your meat.
The ability to add fuel while grilling is a plus, that is a benefit that makes a difference when grilling. Adding fuel at the right time makes the difference between a great grilling or a smoking experience.
Benefits
Easy for one person to put together.
You can either grill or smoke, it just depends upon what you are cooking.
Smoker gives added value.
Drawbacks
Metal is thin and dents easily.
It is hard to line up during assembly.
Missing some hardware for assembly.
Charcoal Smokers And Grills Are Changing
The Masterbuilt Gravity Series® 560 Digital Charcoal Grill + Smoker, in my opinion, has the best value of the three charcoal grills.
Having the ability to set the time and temperature for grilling, gives you the option of which grilling method you use, but will have the required amount of fuel for the job.
This video by Masterbuilt shows how easy it is to get your grill started:
You have the availability to grill anything for the required length to maximize flavor and tenderness. You have total control of what is grilled, as well as time to spend with family and friends.
Based on the size, functionality, durability, and cost the Masterbuilt Gravity Series® 560 Digital Charcoal Grill + Smoke is the best grill for the money. It fits all the criteria with the bonus of letting you take control of your grilling experience.
Flavorful Grilling With Ease
Masterbuilt Has You Coved
This post contains affiliate links.